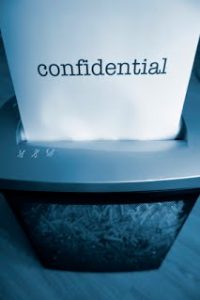 San Jose Document Shredding will find you a reputable mobile shredding service that comes right to your office. Your private records are efficiently and securely destroyed. Your employees can focus on their jobs and not on feeding an office shredder.
Let us save you time, money, and labor by finding a Northern California based shredding service that fits your needs. You receive a less expensive alternative to maintaining equipment, storage space, and using employees to do your shredding for you.
Why take a chance? Shred it. You'll get a Certificate of Destruction for each visit.
So What Do I Keep, and What Do I Shred?
Businesses should keep a compilation of the forms of documents that must be shredded. There should also be a retention policy of how long to retain your records and who is responsible:
Bank Statements
Credit Card Statements and Receipts
Outdated Medical Records
Unused Checks
Records from Insurance Agency
Expired Contracts and Legal Documents
Financial Records
Research and Development
Customer Lists
Employee Records
Proprietary Data