There's always that New Year's Resolution to get more organized. Sometimes it's just a matter of cleaning, but it usually entails sorting through old documents and papers to eliminate clutter.
This annual purge is a good idea to help you and your family stay organized, and reduce the chance of people getting a hold of personal information.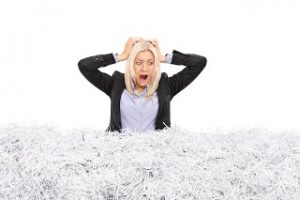 When you're finished, there's a pretty good chance you have accumulated enough paper to fill a couple of boxes or bags, consisting of old bills, pay stubs, employment records, and other documents that contain personal or sensitive information.
So what do you do to make sure that your personal information isn't just on the top of the trash waiting for an identity thief to exploit it?
While a store-bought shredder for your home is great for a few sheets here and there, they're just not designed for a lot of shredding all at once. You'll jam it up; it'll overheat; or you'll just end up breaking it and getting a new one. Having gone through this personally, there has to be a better answer- and San Jose Document Shredding can help.
Every week we get calls from homeowners and home-based businesses that are looking for the best way to shred their personal documents. Most San Jose professional shredding companies aren't set up to handle these small jobs. Their industrial shredders are designed to shred large commercial jobs and tens of thousands of sheets of paper. Seeing that this was an issue, shredding companies came up with a cost-effective alternative: mobile shredding.
Mobile shredding services send a mobile shredding truck right to your Northern California curbside. If you have lots of boxes to shred from you annual cleaning project, you don't even have to leave your house to drop your papers off. They'll come to you, and shred your documents while you watch.
For smaller projects, you can always look for a local provider like San Jose Document Shredding where you can drop off your documents for a per pound price, or utilize a service like Ship 'n' Shred, who works with FedEx for the secure transportation of the boxes.
Before you make your decision on the option that's best for you, give our experts a call. They're here to help you find the best option for your project.
Get Free Quotes on Mobile Shredding in San Jose and Surrounding Areas Today!
San Jose Document Shredding is your source for secure, reliable offsite and onsite shredding services in Northern California. We can help protect your company, and keep you in compliance with state and national shredding laws. Let us find a contractor to securely dispose of your documents as often as you need it.
To get a free, no obligation quote on document shredding today, fill out the form to the left or give us a call at (408) 216-8379.